Donate to the 229th
Archived Forum! Click here to View
January 2023
| Mon | Tue | Wed | Thu | Fri | Sat | Sun |
| --- | --- | --- | --- | --- | --- | --- |
| | | | | | | 1 |
| 2 | 3 | 4 | 5 | 6 | 7 | 8 |
| 9 | 10 | 11 | 12 | 13 | 14 | 15 |
| 16 | 17 | 18 | 19 | 20 | 21 | 22 |
| 23 | 24 | 25 | 26 | 27 | 28 | 29 |
| 30 | 31 | | | | | |
Calendar
Anyone else like hunting big game? I'm not a hunter and have never been on a serious deer hunt but I've always had an interest in it. I just happened to run across this game on Steam and downloaded it. It's free to play, with a catch. You can hunt mule deer in one map and you have a rifle and that's about it. You have to purchase upgrades in-game to be able to hunt whitetail deer, or any of the other animals including moose and bears. So, I downloaded it and enjoyed the free part--I ended up paying for an upgrade to be able to hunt everything, everywhere. Then, I ended up buying a treestand and some other goodies. Anyway, it has beautiful graphics; it's pretty much a sim for hunting and it has multi-player support.
http://store.steampowered.com/app/253710/

(HHC/229) Skullz

Lt Col
Battalion Commanding Officer
Rated Senior Aviator





Messages

: 690


Age

: 52


Location

: Fayetteville, North Carolina



Skullz...  You'll find at least a couple of us playing...  
I took this Elk about 3 days ago....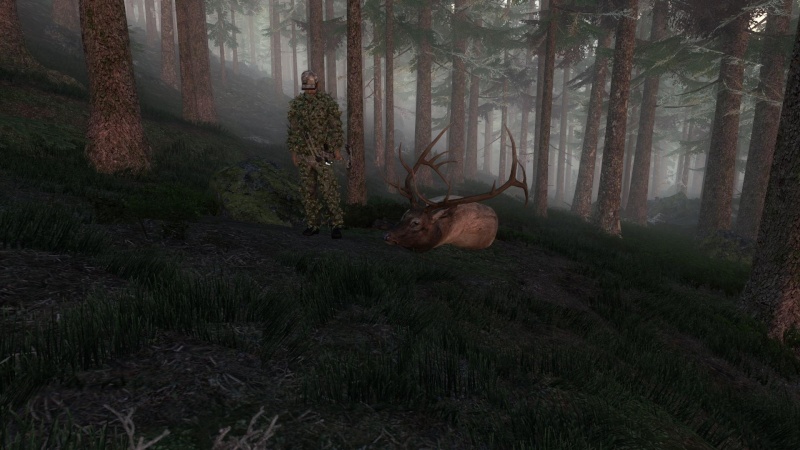 and I'll bet you'll get hooked when you see the Stats page that's available.
Before I was bumped from the top ten..( I'm currently #14) . I was on the top ten list for a Competition for taking an Elk with a Bow.. (Score wise)... here's the Proof:
Scored 342.323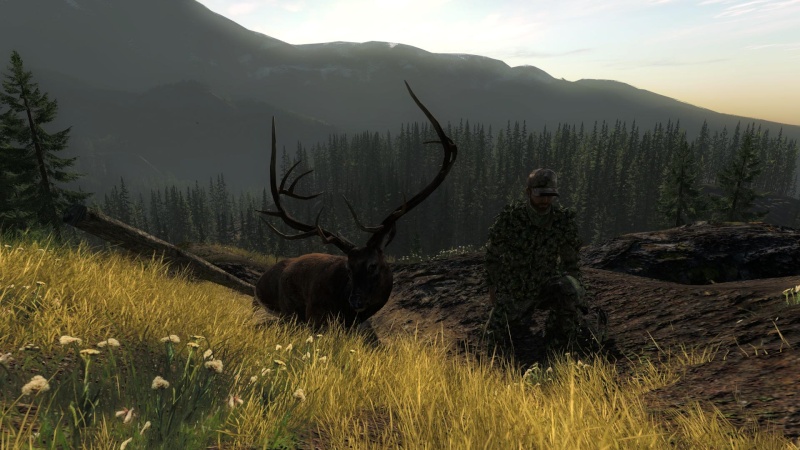 Lemme know if I can help or you have questions...
I find it a BLAST.......  or  BOOOM (which ever you have for a rifle)
< S >  Salute

Turbine FixR

Captain
Rated Senior Aviator





No. of Flights:

: I can't count that High


Killed In Action:

: Lots... :O


Slick No. of landings:

: Always Landed


Messages

: 180


Age

: 60


Location

: KBTV



Nice! Yea we'll have to try a multiplayer hunt.

(HHC/229) Skullz

Lt Col
Battalion Commanding Officer
Rated Senior Aviator





Messages

: 690


Age

: 52


Location

: Fayetteville, North Carolina




Turbine FixR

Captain
Rated Senior Aviator





No. of Flights:

: I can't count that High


Killed In Action:

: Lots... :O


Slick No. of landings:

: Always Landed


Messages

: 180


Age

: 60


Location

: KBTV



---
Permissions in this forum:
You
cannot
reply to topics in this forum